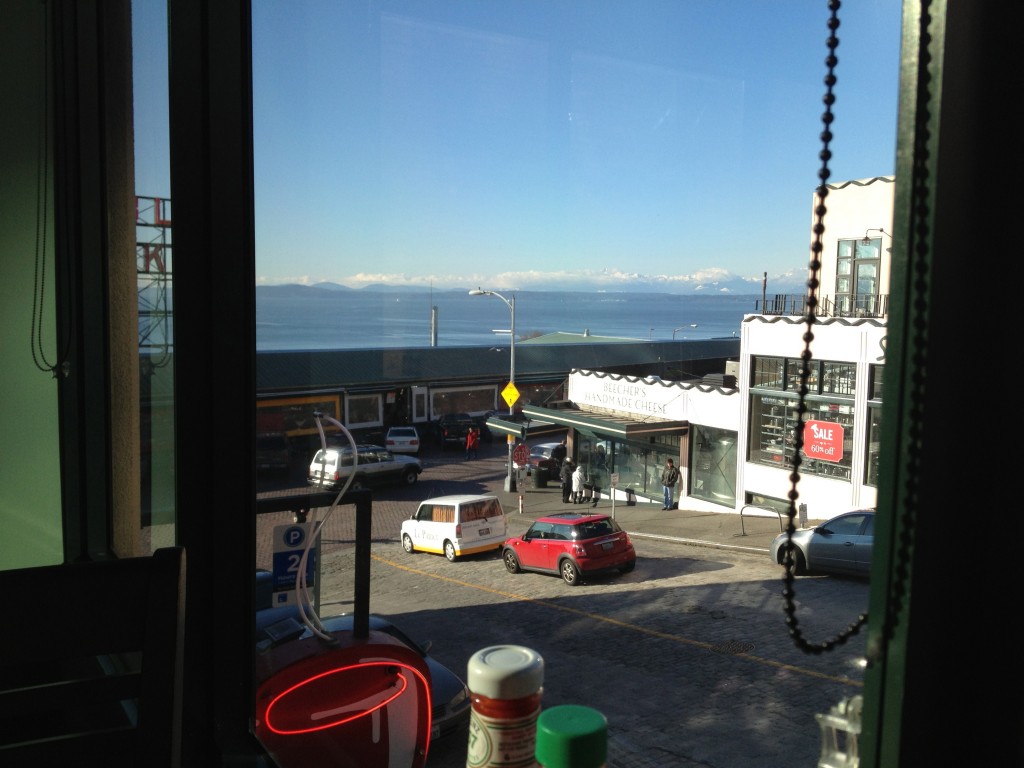 The truth: some of my best conference trips involved sneaking out from the conference. In Houston, I went to the Rothko Chapel; in Boston, the Isabella Stewart Gardiner museum. You too? You might not plan to be at the conference the whole time, and you do need to eat. And Seattle has so many options to feed you well, both body and mind.
Before I moved here from California, my experience of Seattle was only through Singles and Sleepless in Seattle. And maybe that's you, too. But there's so much more. So I've compiled a list of some of my favorite restaurants, museums, and bookstores below close to the conference. It's not comprehensive, and it's a bit idiosyncratic (where I've been, what I like, what my friends like). Nevertheless, I hope you find it useful.
I lived in Seattle for six years, from the late 90's to the mid-ought's. I'm an Asian American writer and a food lover, and (at times) a food writer. I'm not a Seattle native anymore, but I'm a Tacoma expatriate (thirty-five miles south) who visits Seattle pretty frequently. I've also written about Seattle before, including places like the Seattle Star, the International Examiner, and the local journalism site Seattlest.
A bit about Seattle dining
There are chain restaurants near the conference sites, if comfort and familiarity is what you seek. But Seattle has so many options to feed you, it would be a shame to visit us and not experience some of those. Bring your friends for a coffee, a library walk, a lunch or dinner, a write-in. A lot of us write here. Many of the cafes will offer free wi-fi access or free-with-purchase.
Dress is casual in most places, even in many of the higher-end restaurants: it's the Pacific Northwest. If you like seafood, you're in a great place for salmon, oysters, sushi. Mexican food can be hit-and-miss, with the exception I've noted below; proceed with caution. Bus access is fairly accessible and reliable around downtown; there are also cabs.
Downtown breakfast and coffee
Grab pastries or even sandwiches at the Dahlia Bakery next to the Dahlia Lounge. (Dahlia Lounge is famous; it's one of the restaurants where Tom Hanks had dinner in Sleepless in Seattle.) Nora Ephron's favorite cookie, it's reported, was the peanut butter sandwich cookie from the Dahlia Bakery.
For coffee, the green mermaid is everywhere, of course. But I also recommend coffee from Caffe Ladro (multiple downtown sites). Locals also love Top Pot doughnuts.  (I'm not a doughnut girl, so I can't say yay or nay.)
Downtown lunch and dinner
There is, of course, Pike Place Market, an entity all unto itself. You could browse the Market and grab some of Sosio's produce (trusted by local restaurants, always offering great samples). You could head to DeLaurenti specialty Italian market at the south end of the market for a salad/sandwich. My husband Josh (who works near the Market with an office of foodies) recommends Pear, El Borracho, Local 360, Bacco Cafe, and Piroshky Piroshky (watch the lines) for lunch options. I liked the meal I had at Local 360, which will give you the Portlandia yes-we-know-where-our-chicken's-from experience, but with much less attitude. We also went to Steelhead Diner for Josh's birthday last year: upscale diner food, but a nice atmosphere with a view of the water, and yummy.  Friends recommend Cafe Campagne and Le Pichet for French food and romantic atmospheres. The Pink Door, hidden near Pike Place Market, has lovely Italian food and a great atmosphere for dinner/drinks/partying.
Farther up the hill and closer to the Sheraton, Lola has scrumptious Mediterranean food with good vegetarian options. I especially recommend anything with their crispy potatoes, morning, noon or night. Serious Pie has delicious pizza in a communal-table setting. On my last visit, my husband and I had a fabulous kale caesar salad, and flatbread pizza with chanterelle mushrooms and Yukon Gold potatoes. Grab dinner there, dessert at the Dahlia Bakery, or head down to the Procopio Gelateria for some gelato.
Neighborhoods to explore just outside downtown:
South Lake Union
Friends have raved over the offerings at Tom Douglas's restaurants in South Lake Union, just a short bus ride or walk from the conference. These were made for casual or grab-and-go lunches, especially for the Amazon workers. I haven't visited Home Remedy, but Serious Biscuit (biscuits, fried chicken) has gotten a lot of positive attention.  I have also heard great things about Skillet Counter and other new restaurants in the food court if you're near the Space Needle.
International District/Chinatown
If you're willing to venture a little where can i buy ventolin online farther from downtown, head over to the International District/Chinatown; it's not very far and accessible by bus or a longer walk.
For great Japanese restaurants, try Maneki, which my Japanese American auntie and uncle visited recently and approved. (Bush Garden is where you want to go for post-conference karaoke.) For a casual, low-budget food court experience, the Uwajimaya supermarket has a variety of Asian fast food in the store as well as the attached food court (Thai, Hawaiian, Korean, Vietnamese, Filipino). I especially recommend the Beard Papa cream puffs and the Japanese-style sweet crepes from Unicone creperie there. House of Hong is famous for its dim sum.
But I have also loved meals at two Vietnamese restaurants: Tamarind Tree and Green Leaf. Tamarind Tree is a little hard to find, and it's in a strip mall, but it has amazing food and beautiful decor. You would never guess the inside from the outside. Green Leaf is like that, too: looks small and crowded from the outside, but wonderfully fresh and tasty Vietnamese food.
And I have to mention that while you are here, you should try to make time for the Kinokuniya bookstore inside Uwajimaya (Japanese and English books and magazines, and stationery). I also highly recommend the Wing Luke Asian Museum, which is the nation's first museum dedicated to Asian American history. The site is gorgeous and the exhibits (developed through a community-centered process) are always provocative and well-curated.
Capitol Hill
Capitol Hill is very easy to go to and from the conference by bus or walking. On Broadway, for casual lunches and dinners, I have liked Annapurna (Nepalese/Indian/Tibetan), Eltana Bagel, and Marination Station (Korean/Hawai'ian fusion). Friends have recommended Tillikum Place Cafe for brunch and Poppy for small-plates dinner, although reservations are needed. Melrose Market is something like the San Francisco Ferry Plaza building, with a lot of smaller artisan food shops and merchants. I have been amazed by the pastries I've bought from Crumble and Flake (mojito macaron, anyone?), but they sell out quickly so arrive before 2PM at the latest. I have also heard great things about Spinasse (in Capitol Hill) and Artusi (downtown), owned by the same chef, but haven't visited them yet.
Visit the Richard Hugo House to experience a community center for writers. There are several AWP events scheduled there. It's a joy to visit the site where so many authors have read (and will be reading); there are posters for readings all over the walls, typewriters in the classrooms, and a zine library. Bonus: it's close to the Capitol Hill Value Village (Thrift Shop, anyone?) and Elliott Bay Books, and Molly Moon ice cream. Parent/caregiver bonus: Cal Anderson Park, across from the Hugo House, has a great playground if the weather cooperates.
Offsite: more books
Spend some time with a friend by walking through the Seattle Main Public Library. We're proud of this library—it's got a fabulous structure, with wonderful views, and even a cafe inside. Take the elevator all the way to the top and then wend your way down with a leisurely stroll. Parents and caregivers: the Children's room is a wonderful place to take the kids, with great reading areas, toys, and ultra-convenient bathrooms.
Come up the hill and cross I-5 to Capitol Hill, where you can browse at the wonderful and famous independent bookstore Elliott Bay Books.
Those who love food and cookbooks should also try to visit Book Larder, our jewel box of a cookbook store, in Wallingford. It also functions as a community center of sorts; there are frequent classes, demonstrations, and free samples scheduled in the store kitchen. Close to it is Open Poetry Bookstore, a poetry-only store that's offering conference attendees a discount.
Gifts to bring home
I'm half-Japanese American, so I have to suggest a few places for omiage, or souvenir gifts. Sure, there are the T-shirts and magnets and coffee mugs, but you might want something different. Uwajimaya is where many Japanese visitors go for Seattle-based gifts. The Wing Luke Museum has a great store, as does the Seattle Art Museum.
Other resources
If you are into the latest and hottest restaurant/bar trends, Eater Seattle and Seattle Met will have lists and recommendations. Keren Brown's A Food Lover's Guide to Seattle, if you can pick it up before you come, is also a good resource.
And one more thing: the weather
I hope you have a fabulous time here. If the weather gets you a bit down, at least you're able to experience Seattle like a native. Yes, we use umbrellas sometimes.
But the weather's especially conducive to writing.