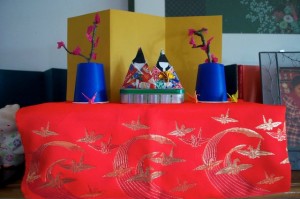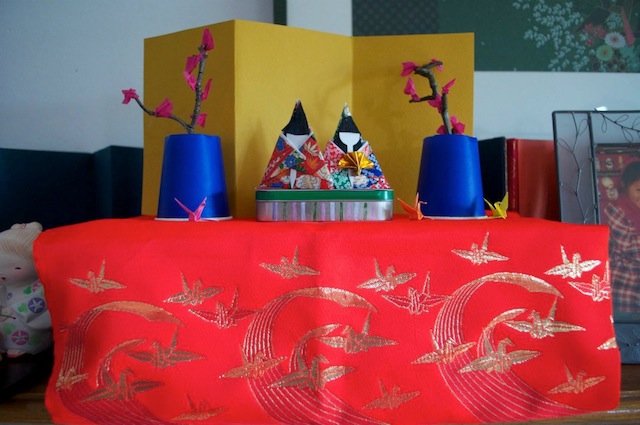 It's been one of those weeks when I've been writing bits and pieces, but not a nice satisfying chunk of writing. That's okay–at least, I am trying to remind myself that this is okay.  All of it is part of the process. But it's hard to trust the process on some days. Yesterday I took Anne Lamott's "one-inch picture frames" approach and just tried to write as many small moments as I could. I'm not sure that these will make it into the book, but it's clear so far that I needed to write them down, if only to download them from my brain.
I promised you some small breaks from the writing process here. So I wanted to tell you about the Girl's Day celebration we had this year.
About Girl's Day
Girl's Day is a Japanese (and Japanese American) holiday, originally intended for little girls and their families and celebrated every year on March 3rd. We have a book about Girl's Day and Boy's Day, with photos and traditions, mostly intended for kids in Hawai'i. When C read about Girl's Day and asked if we could celebrate it too, I couldn't say no. I want her and her sister to know about Japanese culture, to know that this is part of who they are.
Girl's Day (Hina Matsuri) is the Festival (matsuri) of Dolls (hina). Most traditionally, the family has a set of  hina that they take out every year for a few weeks before March 3rd. The hina are usually dressed in the court robes of the Heian era. Some sets are as small as just the emperor and empress on a stand, while one famous set in Japan has over a thousand dolls.
I never celebrated Girl's Day when I was growing up, but this fact also means that I got to play with the day and the traditions as I went along. There are lots of traditions about Girl's Day, and while I love some aspects of these traditions, I also like adapting tradition in order to keep the day meaningful and fun.  Hiragana Mama's collection of links about the day was especially helpful.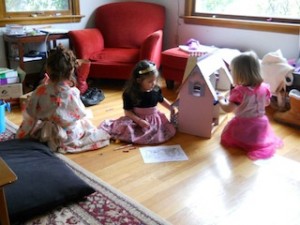 We made the day about dressing up fancy, eating special food, and playing with dolls. Josh finally finished making the dollhouse from a kit that we bought for Christmas, so the girls got to play with the dollhouse, too.
Ultimately, I wanted to keep the intention of Girl's Day, which is about connecting girls to their families,  letting the girls know that they are loved and cherished.

The food
All of the food served on Girl's Day symbolizes something, including hopes for the girls' longevity, strength, and purity. A clear soup with clams is sometimes served, but I didn't think any of our girls would like it this year. (Some of the food is offered to the dolls themselves, but I forgot this part. I'll buy a small bowl to place by the stand (hina dan) next year. A sake cup might also work, since it's the right size.)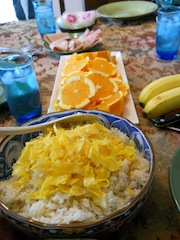 Other foods that we served:
Thin egg crepes over rice from this recipe
Orange slices cut into flower shapes. We used to cut these up for dinner parties when I was little, and my family still likes to serve these on New Year's Day.
Pink and green mochi. The mochi are supposed to be diamond-shaped, and they're supposed to be pink, green, and white. I almost made the mochi, but decided it might be too much work (with everything else). Josh brought some guava and kiwi mochi from Uwajimaya, which was just fine.
Crepes. Yes, I know these are French, but here's my reasoning: Japanese people are really good at making crepes. And some of the best crepes I've had are from places in Japantowns. I sweetened some cream cheese with powdered sugar, and made some strawberry sauce. I also had some ham, turkey and cheese. We presented them as fancy pancakes, and the girls loved them.
Clothes
Girls usually dress up in kimonos and have their pictures taken next to (or in front of) the hina dolls. I actually have two things which were appropriate here: the yukata that my relatives had made for me when we visited Japan, so long ago, and an orange Korean robe which my sister sent to C. M didn't want to wear her robe, which was fine. I just let her (and her cousin) ventolin tablets 4mg dress up in fancy dresses. C looked adorable in the yukata, though. Both girls wore hair accessories that my auntie had bought in Okinawa.  I wanted them to feel comfortable, but fancy, and special.

The hina (dolls) and their hina dan (doll stand)
This project took a while, but I'm a crafty sort of girl. I love taking materials that are available and then transforming them into something else. There are a whole bunch of wonderful cutouts online that you can download and print off. But these didn't feel right to me. (I did print off a coloring page for each of the three girls, as a sort of party favor for the day.)
The dolls: I made the emperor and empress dolls, adapting this set of origami guidelines along with a washi ningyo kit that came with black crepe paper for hair and cutout white circles for faces. I made a small gold sensu for the empress, who often appears with an open fan. The emperor's hair is shorter and more like a topknot. And then I made very simple stands (shaped like Vs, attached to the back of the dolls) which help the two dolls to sit up.
The doll stand: The emperor and empress appear on a stand, which is usually striped. I took an Altoid tin and drew stripes on the front. I also used a folded sheet of gold cardstock as a makeshift screen behind the dolls. Next year I'd like to make the screen fancier, maybe with a cutout decoupage from origami paper.
Cherry blossoms: And I knew that I wanted to make cherry blossoms. I'd been looking at this project for a while. So I picked two twigs from our backyard that looked small and interesting enough. I twisted small triangles of pink tissue paper and glued these onto the branches. I took paper cups, deconstructed one to make a template, and then covered the paper cups with blue origami paper. I turned the cups upside down and stuck the branches into the bottom.
The hina dan (doll stand): The actual stand is a black box that contained some beautiful Japanese bowls. Over the front, I draped a swath of obi fabric that my friend Marcy had sent me from Japan. It has gold origami cranes embroidered all over it. And, just for good measure, I folded three tiny cranes and put them in front of the dolls. Here's how it turned out: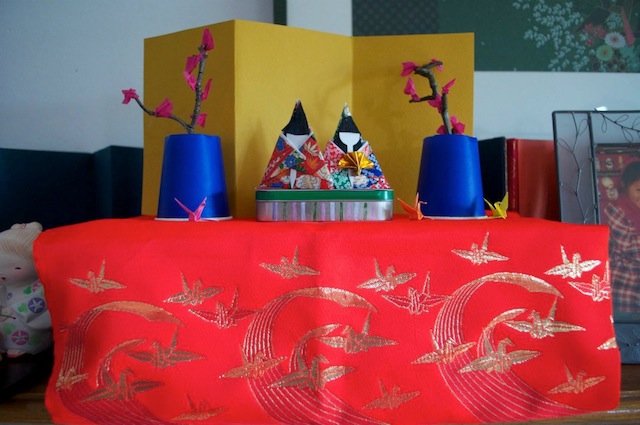 Family
I wanted this day to be a day of celebrating little girls and family. So we invited my niece, as well as her parents, though they're not Japanese. And we invited one of my best friends, B, and her boyfriend. Though B grew up in Kansas, she had read about Girl's Day when she was a little girl. My girls have adopted her as an aunt. She brought a copy of an old children's book, The Japanese Twins, which is about a little boy and girl growing up in pre-World War II Japan.
And I wanted to connect the day to my family, too. I mentioned that I didn't celebrate the day while I was growing up. However, I have a picture that my sister framed and gave me. It's a picture of the two of us in front of my grandmother's set of hina. I put that picture next to my hina dan, and then put a picture of my daughters and my niece next to that. I wanted to connect those little girls with the little girls that my sister and I once were.
Traditionally, a big focus of Girl's Day is marriage. As I understand it, this is why the hina are supposed to be from a Heian wedding. The day is supposed to represent your hopes for the girls' future. But I didn't really want marriage to be the focus here. If they want to be married eventually (far, far, far in the future), that's great; if not, that's great, too. Instead, my sister-in-law and I wrote short notes to the girls, describing our hopes for them. I'll keep these notes and I hope that we'll add to this jar of notes every year.
What special holiday traditions do you celebrate in your family? How have you adapted these traditions (or not), and why?