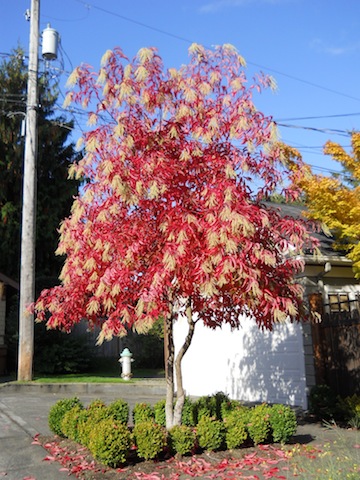 Thanks for all your responses, here and elsewhere, to the last post about beauty. I loved reading what everyone had to say. I'm trying to hold onto that momentum, and trying to remember how lovely the trees were last fall (see that picture above?). It's been a bit gray here lately.

Coming into Year 3 of this private MFA and the second anniversary of this space, I've been thinking about the Final Project. Yes, I'm on the 3-year program. Tortoises, represent.
I've been doing a lot of reading still, which is lovely. I still find myself itching to get things when I'm in bookstores, but I no longer feel the rush to buy the latest must-read or bestseller when I'm there. Instead, I find myself making lists of things to place on hold at the bookstore. Now, I know that writers need to make a living (boy, do I know), but it's also gratifying to know that the books I really want to buy now are the books that I want to keep around forever.
I've been drafting pieces of my book project all along, here on this blog, as well as in a separate document that I call "Book journal." But the other day, I realized that I haven't really laid out what the project will be for you, here in this space.
So it's a good time to describe the final project of my private MFA to you. I want to tell you more about it, to give the project some needed rejuvenation, to kickstart me back into action (remember, go) and to bring some narrative flow back to this space (for you non-lit types out there, some "what's going to happen next?" action).
I've been thinking about it for so long, I can't believe I haven't explained it to you properly. I wrote about an earlier version of it in a writing contest, almost 2 years ago. Over the last year I've been reorienting myself to life outside the academy, rethinking myself into writer identity, and looking for a job. But lately I've been talking about the project to a few people, and I can feel some energy coming back. And I've found that two things motivate me: 1) making lists, and 2) making promises to other people.
Here's the project. And aaaaah, I can feel the fear creeping up as I type, so I better type fast. I've been trying to figure out how to explain the book, and I'm going to keep figuring it out over the course of the project. So this is not my elevator pitch, or my NPR "Fresh Air" draft, but another draft of my explanation to you.
I'm writing a memoir.
It's a memoir about the aftermath of two—no, three—major events which have affected my life. The first event is my father's death. He died when I was 10 years old. The second event is the Japanese American incarceration of World War II, which affected my father's life and continues to affect my own. The third event, the one that made me turn to writing this project at all, is the loss of my job and my return to the writing life.
Here's another way to explain it: it's a triple-voice memoir, one that intertwines my writing, my sister's artwork, and the voice of our father, who died when we were very young (10 and 6 years old, respectively). We have our father's voice in many things, but perhaps most concretely, we have it in an unpublished memoir manuscript that he wrote about his incarceration experience. I plan to intertwine parts of my father's manuscript, some of my sister's artwork about memorials and memory, and my own musings about the aftermath of death, as well as the aftershocks of camp history. For right now, I want to organize the book into chapters using different forms of documentation, and writing about the different forms of memory that they evoke. For example, there will be a chapter about a family recipe, a chapter on the albums of Polaroids that he took of me when I was a baby, a chapter on his diary when he was in the military, well before I was born. There will be a chapter, or a series of chapters, about my dad's typewritten book manuscript itself. I hadn't seen the manuscript in twenty-five years, until I reread it a couple of summers ago. And when I began to read, I realized just how much I hadn't worked through my feelings about his death.
And yet here's another way to explain it. No one knows everything about the lives of their parents. When they leave us, they leave so many unanswered questions. I wanted to look at one particular stretch of time when I know the least about my father's life: the time after his memoir, after his wartime incarceration, and before he married my mother.
Writing has helped me to clarify and discover and process what I've learned about my father's death, and myself, and memory, over the last two years. So it's a book about a writer's (and visual artist's) struggle between loss and memory, the ways that we memorialize our dead in an age where so much information is "in the cloud." In some ways, it's a present for my daughters, who never got to meet their grandfather.
Over the next few months I'll share pieces with you, some revisions of blog posts, and updates about the writing and publication process. I'd love to hear what you're thinking about the project in process, and I look forward to sharing the journey with you. I'll continue to post intermittent musings like these, so it won't all be about the book. But I need to move forward, to keep writing, and to keep moving towards this bigger goal. Comments mean a great deal to me, even a quick line or two, so please don't be shy. I promise to respond, too. Thanks.