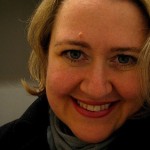 I started reading blogs around 2007, but I can't remember when or how I began reading Tea and Cookies, by Tara Austen Weaver. I'm not sure if I found her blog first, or Shauna's blog first–and was happy to see that they are friends. (Tea is also friends with Christine Lee Zilka, who also went to Mills College and appeared earlier in this series.) But I was hooked immediately by so many things about Tea's blog: the sensitivity and sensibility of her prose, her gorgeous photos, her love for the Bay Area, and her expatriate sense of moving from the Bay Area to Seattle. Because she lived in Japan for a few years, I loved how she wrote about Japan, and we even joked later about a shared Japanese sensibility. We had conversations over Twitter, and eventually shared picnic blankets at Gasworks Park and a lunch table at Nettletown.  I am lucky to call her friend and writing mentor, and I'm so happy that she was able to spend some time here.
Visit her blog for more of her writing, but you should also read her memoir, The Butcher and the Vegetarian: a funny and thoughtful and intriguing look at when and how and why we choose to eat meat, or not.
1. Did you go through an MFA program? If so, how was it structured?
I did the MFA in creative writing at Mills College, in the San Francisco Bay Area (Oakland). It was a pretty standard part academic/part studio program. We had workshop classes each semester, along with literature classes. Most people took one workshop, one lit, and one elective class (though there was the semester I took five classes and nearly died). It was a two-year program, with a written thesis of creative work due at the end. The program was divided into poetry and prose, with a mix of fiction and nonfiction in the prose section.
There's a good amount of controversy over the MFA program. I know people who wish they could do an MFA, and others who wish they hadn't, mostly for financial reasons (one woman told me, "$40, 000 could have bought me a lot of writing time"). When people ask what I think, I tell them it depends on the person and what they want to get out of it. For me it was the right thing at the right time. I had been working in publishing for five years, editing for more than ten years, and writing on and off since I can remember. But I'd gotten very much into the editor/publishing track. I was spending my days working on other people's writing. I wanted to carve out the time and space to work on my own. I might have thought about teaching someday, and how the degree would be useful there, but I soon gave up any plan of that (one teaching theory class cured me).
What has been incredibly useful to me is developing a language around writing. I might have known instinctively what worked and what didn't in a piece, but the MFA taught me how to talk about writing–how to analyze and convey this to another person. This has made me a much better editor–a more educated eye–which has also helped me in editing my own work. We're fairly blind when it comes to our own writing, but I've become better at seeing the bones.
Of course, at the end of the day, it's practice in writing and also reading that makes you stronger. My writing really improved when I started a blog (a year and a half after my MFA). Writing on such a regular basis–I posted three to four times a week in the early days–really steepened the learning curve. My writing has grown so much from working on the blog and writing for the web (more concise, ruthless editing). Regular and set practice is invaluable.
That said, I do think having feedback and assignments pushes you out from the comfortable places. During my MFA I was asked to write things I never would have otherwise, required to read and analyze in a way I wouldn't have on my own, and told truths about my writing that I didn't particularly want to hear, but which pushed me to a higher level. I'm not saying you couldn't get that through a lot of personal work and a good butt-kicking writing group or mentor, but it would be a harder thing to orchestrate. I think a lot of workshopping also helps you be less precious about your writing, which is good if you have plans or hopes of being published. It's the first step towards developing some perspective and a thicker skin about your work.
2. If you were to design your own private MFA for yourself—either before or after going through your own MFA program—what would it look like, and why? What would be your goals? How would you challenge yourself, solicit feedback, create a writing community?
My ideal program would have a big mentorship component. I'd love a strong mentor whose work resonated with my own and would ventolin inhaler 100 give me feedback on my writing. Good mentors are hard to find, but can be invaluable. I'd also have a lot of reading involved. I sometimes got frustrated with my own program, because it seemed like I was spending as much, if not more, time writing academic papers on literature as I was on my own creative work, but I do think the reading part is important (I might skip the analysis essays, however, and opt or group discussion instead).
My first thought was that I'd skip the workshops, where you critique each other's writing. Not everyone is going to give you good feedback, and you pretty much know in the first few months who your good readers are. But if this is my ideal MFA, I'd pick a small writing group of people whose feedback I valued and keep that. I might also add in a book group–an opportunity to discuss the books I'd been reading (without having to write papers on them). And I'd have lots of writing time. The program I did had less of a studio component than I would have liked. The benefit, however, is that I learned how to talk about writing and dissect it, which has been very valuable to me as a writer and even more so as an editor.
3. Do you teach creative writing, or do you teach in an MFA program now? How do you measure student progress, or grading?
I don't teach in a traditional sense, though I did take classes in teaching theory as part of my program. I do work one-on-one with writers, however, as an editor, and much of what I know is passed down in that way. Because my work is project based, I'm focused more on the writing than the writer. That said, I've had wonderful experiences with writers who were eager to learn and took advantage of having the dedicated attention of an editor to soak up the feedback I gave them and apply it to their future writing, becoming much stronger writers in the process. Some of them managed to break chronic bad writing habits (one former client says she's haunted by all the semi-colons she wrongly used over the years). One of my clients, who I walked through a major overhaul on her novel, later went back to an old editor of hers (she still had credit for hours she had already paid for). The woman couldn't believe how much stronger her writing had become and wanted to know what she had done! That made me pretty happy.
4. What have you read lately that's just blown you away?
I haven't been blown away by much lately, I'm afraid to say. I'm working on a new book and during that time I find I don't read a lot of full-length books. Shorter pieces work better, and fit into the spaces in my schedule and in my brain that are not devoted to the new book. I've been reading some pieces by MFK Fisher—I've been inspired by the recent biography of her that I read, An Extravagant Hunger by Anne Zimmerman, and wanted to read her stuff again with the new lens of knowledge I now have. I've also been really enjoying the advice column written by the anonymous "Sugar" on The Rumpus. She is writing about real life in honest and often heartbreaking ways, with a lot of compassion. She has a great post about writing. I look forward to Thursdays, to see what she has come up with this week. Another new-to-me read was Toast, by Nigel Slater, which I could barely put down. He tells the story of his very difficult childhood through the food he ate, and manages to capture the mind of his child self. It's an unusual book, but sad and lovely. I'm also reading A Wrinkle in Time, which I never read as a child. It's made me think about reading or rereading more kid lit.
5. What are you working on now? Do you have anything coming out? Can you say a little bit more about it here?
I have a new book in progress. It's early days still, but it deals with a garden, growing food and family and community. It will be called Orchard House. I also have a short collection of pieces about living in Japan (with recipes for Japanese food dishes I love) that I'm releasing electronically as a fundraiser for Japan earthquake aid. That will be out soon and is called Tales from High Mountain. I'm also working on some magazine articles, and always writing for my blog. I've been covering more writing-related topics there recently, and it's been fun to write about the process.
Thank you, Tea! I really appreciate your insights here–I have done some editing myself, and I never (strangely) thought about how the MFA could help a full-time working editor. I especially like the insight about "developing a language about writing," or "what we talk about when we talk about writing." I'm looking forward to both novel and memoir.