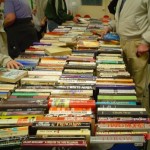 A few years ago I asked a group of students, bless their hearts, to write their own obituaries.
Now, of course there was a reason. It was a course which introduced students to the English major, and I thought that writing their own obituaries would help them to articulate their life goals, even if in a surprising fashion. Or rather, I hoped that the surprise of the assignment would propel them to unexpected insights, to help them answer that eternal question: "What are you going to do with an English major?"
And yes, it was a morbid assignment; I'm not sure that it worked for everyone.  Confessing further, it might not have been the best idea to ask them to write it on, um, the first day of class. In class. Oh, my. "Welcome to the class: now, contemplate death."
(Then again, many great works of literature have said the same thing, if much more poetically. Maybe not on the first page, however.)
Nevertheless, I didn't expect that my own response to the assignment would startle me.
While my students wrote, I wrote quickly too, scribbling notes and sentences down the page of my teaching journal. I envisioned what I would do when I retired from teaching, and I envisioned what others would say. I even found myself picturing what my daughters would say, and this sentence emerged from my fictionally-grown-up eldest daughter:
"She really loved all the ways that the written word could bring people together."
Today I've been thinking about what this sentence means. This morning, my husband said that in itself, it's a blog post, or a longer essay. And one of my failings as a writer is that I can be too elliptical: too often, readers will have to ask me to explain further about what a statement means, or to give an example. I discovered a few years ago that I'm an under-writer, rather than an over-writer. I suspect this is why I'm more of a poet than a novelist. I expect very little to say a great deal.
Exhibit A: my short paragraphs.
Exhibit B: "Say more," urged one of my early graduate school professors. Still terrified of speaking in class, I stumbled when so pressed. I said something! Now you want me to say more?
And of course, I know there are exceptions to my rule: there are many wonderful novelists whose prose conveys a great deal with very little. But what does this sentence from my own fictional obituary mean? I've got just over half an hour left of power on my computer, so I'll use that time pressure (raging against the dying of the long-overdue Northwest sunlight) to see where it takes me. All right:
• I love how intimately the written word can bring two individuals together. In one of my favorite moments from the film Before Sunrise, Julie Delpy's character says something like, "If there was a God, it wouldn't be in you and it wouldn't be in me. Just in the space in between." I feel that way about writing: at its very best, the space between writer and reader holds the potential for the divine: for the transcendent. I can travel far from my self, see unexpected reflections of myself—and return, forever changed.
• I also love how the written word can bring large groups of people together. I love how having a common buy ventolin online no prescription reading (if not a common reading experience) can open spaces for conversation. A few summers ago, I led a book group discussion for faculty and staff members on my campus. It was a relatively rare and relatively frank discussion about issues of race and privilege, particularly among faculty and staff. There are far more people of color on staff than there are among the faculty. While I know a common reading did not level the playing field, I loved how so many moments in the reading provided so many resonant spaces for people to speak.
• I love how the written word makes me imagine and makes me empathize, even and perhaps especially when it costs me something to do so. Vladimir Nabokov's Lolita, Leslie Marmon Silko's Ceremony, James Baldwin's Giovanni's Room.
• And—how do I say this without irony? I'll risk it—I love how the written word makes my light shine. When I am passionate about a book, or a story, or a play, I want you to read it, and I want to talk about it with you and I want this experience to texturize the connection that we have with each other. Through sheer enthusiasm, I can bully you into reading whatever I've loved lately, or for a long time. (Don't be afraid. I do take your preferences into account before I recommend anything.) Junot Díaz's The Brief Wondrous Life of Oscar Wao, Madeleine L'Engle's A Ring of Endless Light, Toni Morrison's Song of Solomon, Li-Young Lee's first chapbook, Rose, the first and last stories in Nam Le's collection The Boat, Haruki Murakami's Dance Dance Dance, Dodie Smith's I Capture the Castle, Ann Patchett's Bel Canto. Just to start. Few things make me as happy as talking about a book that I love.
I am taking some time this summer to rethink what I'll do professionally in a couple of years. So far, all I know is that I want my life to reflect that obituary sentence: "She really loved all the ways that the written word could bring people together." I want it to be a sentence that could easily describe me, and not just by someone who knows me really well.
I've wandered a bit this week, trying to depressurize from a difficult year (see post below: 2-hour nap!). I reached some solid ground in the stacks of my public library, and, once I recognized it, laughed at myself. Oh, right: the written word. As I think and rethink, I'm calling on the wisdom of Baby Suggs from Toni Morrison's epic novel Beloved: "She told them that the only grace they could have was the grace they could imagine. That if they could not see it, they would not have it."
If I don't know what I'll be doing in a couple of years just yet, I've got a compass direction.
P.S. For Monday's post, blogger Shauna James Ahern (aka Gluten-Free Girl) has invited everyone to write about the first thing you cooked, and how it made you feel. She'll be collecting responses, so you could send a message to glutenfreegirl at gmail dot com., or post a link in your comments on Monday. (Though the invitation was on Twitter, I don't think she'll mind if it's over 140 characters or not.) I'll be participating. I hope you will, too.