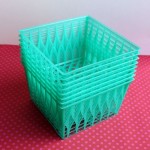 "Mommy! Mommy! I made something for you!"
As we pick up my kindergartener from school, she hands me a white envelope. I open it. There are about a dozen puzzle pieces that she's colored by hand, in all the primary Crayola colors of the rainbow.
There are no corners, so I start to group the different colors together. She stops me. "No, no, Mommy. The greens don't go together! I made it a tricky puzzle."
It takes me a while to piece the puzzle together, with her help. Together we discover that there's a piece missing, which sends her to her backpack. Several of the pieces are peeling away from the cardboard backing. There's another piece or two missing, and we're not sure where they are. But that's all right. The puzzle forms a heart, and in the middle, she's written, "Mom I Love You."
Now that I'm a mother, I have a hard time accepting what the media sells us as "good Mother's Day presents." Brunch? Sure, if your mom likes brunch. But what if she likes picnics better? Flowers? Same deal: sure, if she likes flowers. But what if she'd rather be gardening and planting new ones in her own yard instead? Where are the top-10 suggestions for the Mother's Day presents that ask you to honor what your mother likes, or what she likes to do?
As for me, I know that I will always love the presents that my daughters make me, with their own hands.
When I was a little girl, I remember making a Mother's Day present for my mother. Two green plastic strawberry baskets and yellow paper and string. It was, ahem, a Ms. Pac-Man figure (yes, it was the 80s). Out of strawberry ventolin inhaler price baskets? You kind of had to be there to see it. And while my mom didn't love, much less play, that video game, I loved the feeling of making something for her. "You're so creative!" she exclaimed. And I glowed, hearing her say that. Together we had made snowflakes to tape onto our glass sliding door, and we hung ornaments made out of cutout Christmas card circles. So the act of making a present for her was to say: "I like to make things. And that's because of you." True, it might not have honored exactly what she liked, but I like to think that it honored the spirit of what she liked to do, as a parent.
I don't know how my daughters will remember my mothering, but I do know that making things, and making things together, is one of the main things we do in our house.
There's a poem that I've been thinking about obsessively, for the last several days. There are various versions circulating around the Internet, but all attribute the lines to the Persian poet Hafiz:
Even after all this time
the sun never says to the earth, "You owe Me."
Look what happens with a love like that,
It lights up the Whole Sky.
When I found this poem, my eyes prickled with tears of recognition. That's the very best of radiant maternal love.  I hope I can manage to pass on something like this kind of love to my daughters. That's what my mother's love has done for me. That's why I'm a writer.
Mom, I still like to make things. And it's because of you. Happy Mother's Day.