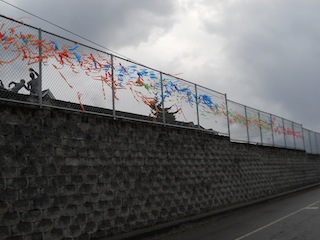 Out of all the griefs there are, a child's grief may be one of the hardest to witness.
I'm not quite sure why that is. Maybe it's partly because children feel emotions with naked intensity. If they're hurting, they're hurting badly. But I also think that as a culture, we often want to protect children from death, from grief, from feeling sad. There's some strange unwritten agreement that childhood is supposed to be sadness-free, and that it must be innocent, even though we know (or forget) that these words would not always describe our own childhoods.
Childhood is part of life, right? And all life contains some slice of sadness. Why should childhood be any different? It may even hinder a child's emotional growth to deny them the opportunity to learn what my friend Jeanne calls the "skill" of grieving.
And still, it has been difficult to watch my oldest daughter grieve. I've been watching my child, and many other children, grieve for the last two weeks. It has been hard. And this has surprised me: it has been beautiful.
*****
Maybe for you too, "principal" was a word to fear when you were growing up. You only saw one if you were in trouble. Principals were Grownup and Scary, and they stayed mostly in their offices. They were somewhat like hibernating bears: you didn't want to see them, and you didn't want to make them angry.
But C's principal, Bob Dahl, was a beloved leader for staff, students, parents, and community members alike. He died a couple of weeks ago. He'd been sick and out of school since last October, but I think that many of us thought that he would recover.
So many people have Mr. Dahl stories. When C went to visit school one summer with Josh, Mr. Dahl was there, unpacking boxes of textbooks for the teachers. Mr. Dahl took them around the school, looked up her teacher's name, and showed her what her classroom would look like. He did his very best to make sure that C felt welcome and at home. This was the summer before she started kindergarten. The last time I saw her with him, she was giving him a huge hug at her first grade back-to-school welcome celebration. C trusted him very early.
I've heard many other stories about Mr. Dahl, and they all say essentially the same thing: he was a kind, respected, and reassuring man. All this, and we've only been part of this community for two years. I can only imagine what it must be like for the families who have known him as their principal for ten or fifteen years, who have watched several children grow up in Mr. Dahl's school. I can only imagine what it must be like for the staff who worked with him for the same amount of time.
As a parent, it was comforting to see Mr. Dahl each morning and afternoon at one of the crosswalks, where he did crossing guard duty. After the first few months of school, some of the older students joined him at the crosswalk to help. At first, I thought it was just charming—a way of saying that the highest administrator of the school had something to contribute to the small everyday workings of the school.
Upon second thought, though, it was clear that crossing guard duty was one of the smartest things Mr. Dahl could do as a principal. Crossing guard duty meant that he was there at the school: he was reliable, he was visible, and he was accessible. He greeted parents and students as we came to school and as we left. Crossing guard duty was more than his office hours, because office hours require the student go to the instructor. It was his way of bringing his office down to the crosswalk.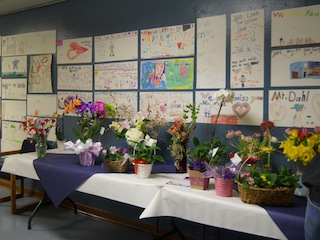 *****
The evening after Mr. Dahl died, her teacher called us at home. (I thanked her later for the call. Imagine what it cost her to break the news to twenty-four families, while still reeling from the loss herself. She's worked for him for fifteen years.) Though C was getting ready for bed, Josh and I decided to tell her anyway, instead of waiting for the rush of morning activities. We sat her on the couch between us, and explained that Mr. Dahl had died. We had explained death to her when she was a toddler, in the simplest possible terms—that someone's body stops working. (A flexible thinker even then, she thought that death meant that they needed to get new batteries.) A distant family member died a couple of years ago. A family pet had died a year before that. We've talked about my dad, and she's now old enough to be a little sad about the grandfather she never got to meet. But Mr. Dahl was the first person that C knew who died. This is really the first death that she's old enough to understand. When we told her she buried her face on her dad's shoulder, and she cried a bit. "Why?" was her first question. We talked about it some more. And then we read her some extra stories, and tucked her into bed.
What I really want to tell you about, though, is how amazing it has been to watch this elementary school, this larger community, teach my child how to grieve.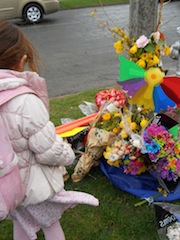 *****
When I dropped C off at school that Monday morning, parents and staff were already weeping and hugging at the playground. But thanks to the school district, grief counselors were available the next day for the entire school, including parents, staff, and caregivers. The counselors had been pulled from other elementary schools that day. If kids became too sad to function in class, ventolin inhaler generic they went to the library, where they could talk to counselors, and do simple activities like coloring or doing math problems. Many classes did some form of activity to honor him, even the kindergarten classes. C's class, which usually talks about kind words and deeds in a "kindness circle," formed a circle to talk about Mr. Dahl and his kindnesses. They made a book of drawings and notes to give to his family.
And then there came the visible symbols of public grief, which have been equally heartbreaking and heartwarming. Two classes, whose rooms face the street, painted murals on their windows: "We love you Mr. Dahl." Flower arrangements arrived from neighboring schools, and were placed on a table near the main school office, with a guest book to sign. That very afternoon, the school marquee changed to mark his passing. This week, students and parents have written on colored plastic memory flags, and tied them to the chain link fence surrounding the school playground. (You can see some of them in the first photo, above.) Many students wrote messages and traced their handprints onto colored construction paper, and someone made these into flowers to decorate the stage in the school cafeteria. The hallways are filled with the children's letters and drawings for their principal. At the candlelight vigil that the school held this week, the school chorus sang a song that two students had written for him.
And for two weeks now, there has been a steadily growing pile of bouquets, handwritten letters, illustrated signs, and balloons at the northwest corner of the school. Members of the school community have laid these at the crosswalk where Mr. Dahl used to stand every day.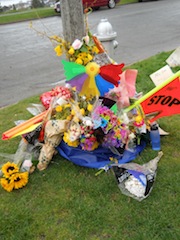 *****
At our house we've talked about Mr. Dahl off and on, whenever C wants to raise the subject. Though it makes C sad to talk about him, I think it is also comforting to her that she can talk about him. Yesterday she brought home two things: a wallet-sized picture of him, and a blue plastic bracelet that says, simply, "[Our school] loves Mr. Dahl." After the memorial flowers have wilted, and the signs have come down from the hallways, the children will still have this bracelet that they can wear as a symbol of collective mourning.
Not so long ago, in Victorian England, mourners wore special clothes which were black, and (after a time) half-mourning clothes which were lilac or gray. Having to wear these clothes might feel somewhat restrictive now, I know. But I've been wishing for those outward symbols of mourning. If you've been reading here, you know already that I'm writing a book about my father, and his early death when I was ten, and that this book is partly my way of grieving. It's taken me far too long—well over two decades—to learn how to grieve my father.
I wasn't sure how I'd be able to help my daughter grieve, or if I could stand to watch her grieve. I think that if I hadn't been writing the book, I would have wanted to detach from far too much these past few weeks. I would have avoided talking about it, asked her not to talk about it. And I probably would have avoided the school as much as I could. I would have stayed away from anything like a memorial service or candlelight vigil.  I think I would have sprinted towards full emotional retreat. Emotional detachment's been my coping mechanism for far too long.
Now I wish that I'd had something like C's blue bracelet to tell the world that I was in mourning when my father died. Sometimes I felt as though I was in a completely different planet than almost everyone else, and I couldn't remember how normal life felt. Maybe because I was a child, I felt strangely important. I knew that this massive catastrophe had happened and I was one of the few people who knew about it. I wish I'd had a bracelet or a sign, even a sandwich board I could wear, that said, "My father's just died."
And yet I don't know how many people would have talked to me if I had worn such a sign. Why is there such a silence around grief?
I'm thinking of so many people I know who have lost someone vitally important to them. I'm thinking of family members and friends who have lost loved ones to aging, miscarriages, illness, suicide, accidents, abandonments. Some of these deaths have happened under brutal and inexplicable circumstances. There are so many of us, walking around with so much loss, and we don't really know each other. I bet we could have a sandwich board party, those of us in the Grief Club. I bet the membership would be larger than any of us would expect. But we don't speak enough about our losses to each other. Shouldn't we be able to offer more than "I'm sorry"'s to each other?
*****
These last two weeks have been hard. And they've been beautiful. My daughter's elementary school community has taught her how to grieve. The teaching's happened not through direct instructions or textbooks, but a tapestry of collective actions. And I'm so grateful that it's happened in terms that she can understand:
It's okay to be sad. It's okay to cry. Crying might even make you feel better.
It's kind to comfort other people who are also sad.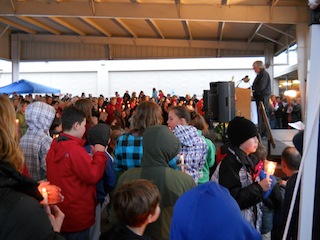 We are never alone in our grief, though it often feels that way.
Beauty is not only possible but crucial at these times. It unfurls when we need it most.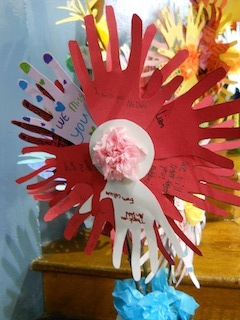 And finally, one of the best things to do with grief is to bring it into the light.