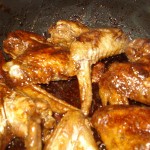 Chicken adobo, for my mama
(I have written this essay for my mom. If you've been reading this blog from the beginning, somewhere down the page you may have picked up that I'm half Japanese American—not to mention the Japanese word "kiku" above. But I'm also half Filipina American, and throughout my life I haven't written very much about that part of my heritage. I want to write more about that omission, perhaps another time.
Before I go any farther, you should know that this essay is not one of those nostalgic tributes to my mom's cooking. I mean no disrespect to my mom's cooking; it's just that there are a million tributes-to-mom's-cooking, which are bunny-multiplying on the Internet as I type. And despite the bunny metaphor, I mean no disrespect there, either.  A few weeks ago, I surprised myself by confessing to a friend that I'm constantly auditioning to be a food writer. See exhibits #3-355: the majority of my Facebook status updates.
So, insert a literal and metaphoric gulp here.  And a nod to the food. This piece is a dress rehearsal for that audition. )
I wonder if Filipino cuisine is one that slips through the "all-Asians/Asian foods look alike" cracks. Lumpia's a close cousin to Chinese eggrolls; pancit dresses an awful lot like chow mein, maybe with a few more vegetable accessories. You can find lechon (roast pig) in Asian grocery stores with a butcher counter, but you might never order it there by using that word. There may be other forms of confusion at work, as well. Spain occupied the Philippines for a long time, so one of the latter nation's main languages, Tagalog, bears a close resemblance to Spanish. Adobo is Spanish for sauce, and so there are a number of "adobo-style" seasonings and marinades in the "Hispanic" sections of supermarkets. If you like spicy Mexican food, you may have bought a can of chipotles in adobo sauce. I bought my first can of those a few years ago and was genuinely confused by the contents.
I know there are lots of societal and cultural reasons why Filipino food hasn't caught on in the culinary American mainstream, the way sushi has. And as a picky-eater-turned-foodie (don't laugh! I know I'm not the only one), I have to confess that I'm still learning to appreciate Filipino food, partly for my Filipina mom.
To eat certain foods with my mom is a way to bond with her: sipping from a cold watermelon on an oven-hot Sacramento summer afternoon; wiping our fingers after eating chunks of lechon from a styrofoam takeout box; scraping the last of a hot fudge sundae from the glass dishes at Leatherby's, our longtime ice cream parlor. While my mom and I are close, and we love trips to both thrift stores and Asian grocery stores, we're not always on the same page about food. I love most fruit, for example, but I don't like watermelon, my mom's favorite fruit. And when I lived in the Bay Area, I used to take my mom to visit her favorite Filipino cafeteria-style restaurant chain, Goldilocks. And none of the food at Goldilocks looked terribly appealing, to be honest. I felt a little bad that I didn't want to eat more of it, to make my mom happy.
Growing up, most of the time I saw Filipino food at my grandma's house, or at parties with her friends. My mom cooked a little bit of it at home, but not very often. Either way, I never ate very much of it. I was too picky, and for that picky child, Filipino food was far too weird. In my defense, here's one memory that turned me off of most Filipino food for a long time. My grandma had made dinuguan, a dish with a dark, thick, muddy sauce. Maybe my grandma knew how much I loved chocolate, so she told me it was "chocolate meat."
Dinuguan is made with, um, pig's blood, which is what turns the sauce so dark. It is spicy and garlicky, from what I have heard. Maybe I'd like it now. But chocolate meat, it is not. (Lesson learned: when I practice "creative food labeling" for my almost-5-year old daughter, I try to make sure the label will mostly fit her expectations. Spanakopita today? I called it "spinach pie." She loved it. At least for today.)
Adobo, however, is the national dish of the Philippines, and with good reason. It is chicken, or pork, or sometimes both, stewed in a sauce that's a little sweet and very garlicky, peppery and vinegary. I love the audacity and scale of the butcher paper recipe at the Filipino place (Oriental Market) across from Seattle's Pike Place Market, which begins by calling for "6 whole chickens." However, I think it may be difficult to make adobo on a large scale and make it taste good. The rendered fat from the meat can be overwhelming and unmanageable, but the sauce needs to be really strong, not watered down. I have seen adobo swimming in too much grease in the chafing dishes of Filipino restaurants. I can't blame someone who's tasted it at a restaurant before and not liked it.
But if you're not vegetarian, and have never made this dish before, I want you to make Filipino chicken adobo. (If you are vegetarian and have made it heroically past the dinuguan, apologies: I've conferred unscientifically with a vegetarian Filipino friend, and we agreed that tofu adobo is just not the same. In fact, I think we agreed that tofu adobo is just plain wrong.)  Because now that I can make chicken adobo at home, my culinary Pinay heart will return to marinate in its garlicky vinegary peppery sauce, for always.
You too can make it at home, and it can become one of your weeknight go-to dishes, as it is for me. Picture it! You can 1) bring home some chicken; 2) start your rice cooker; 3) use seven pantry staples to make the sauce in one pot, 4) throw in the chicken, and 5) wait, paying your bills or doing the dishes, for about an hour. College students, or anyone who likes simple home cooking with vibrant flavors, should love this dish.
And my mom? She used to make chicken adobo when I was growing up, too. It's probably one of the 2 Filipino dishes I ate. Funny, though: I think she likes my version better now. ("You add sugar to yours?" she asked, sipping from the cooking spoon a few years ago.) I'm learning to cook and like more Filipino foods, Mom, a dish at a time. Salamat for teaching me to love my daughters abundantly and generously. Here's my recipe.
Chicken Adobo
Liberally adapted from, ahem, The Garlic Lovers' Cookbook (Gilroy Garlic Festival)
I'd tried to make adobo on my own for years after I moved away from home, but the sauce proportions never seemed quite right (garlic: soy sauce: sugar: vinegar, etc). Adapting this recipe did the trick. So if you read carefully, you'll see that the sauce is everything in this dish. I like it pretty strong.
Some regions in the Philippines use coconut milk, though I've never tried that version. Most descriptions I've found agree that adobo is a personalized taste, which means that it's very much about the adobo you grew up with, rather than, say, the adobo you adopted through peer pressure. What you have here might not be the most authentic version, then, but it's my personal taste. You should feel free to adapt it to your palate.
This recipe makes just enough sauce for the amount of meat mentioned. However, I like to double the sauce ingredients so I have enough to serve over rice. Four secrets that I've discovered, through tragic trial and error:
Do not let the chicken boil, because then the meat will be tough.
Do not cover the pot; otherwise, the steam will drip back into the sauce and it will taste watered down. You don't want the sauce to reduce into caramel (although I did that by accident recently, and it wasn't all that bad!), but you do want it to retain its strong flavor. This is another reason why I like to double the proportions.
More apologies to the vegetarians: you really need some chicken fat for the right flavor. (Remember the Age of Boneless Skinless Chicken Breasts? I made adobo during that Age, and they just don't do the trick. "What's missing?" I asked my Filipina roommate, one night. We mused for a while, and then nodded in unison: "Fat.") I like to use chicken thighs, or a mix of thighs and drumsticks. Either way, make sure that some of the meat has some skin on it, and don't trim away all of the fat.
If you are really unhappy with the amount of chicken fat in the dish, you can make it, let it sit overnight, and then skim and discard the fat off the top.
You can serve adobo over hot white rice, which is how it's typically served. I like to serve it with a mixture of white rice and quinoa, both thrown into my rice cooker. So, before you start the adobo, start by cooking your grain of choice.
Ingredients:
3 lbs chicken (dark/light meat combo, or just dark, with skin) OR pork, cut into 2" cubes (Honestly, I've never tried the pork, I love the chicken version so much. And yes, if you used pork, it would be called pork adobo.)
3-5 cloves fresh garlic, minced
Fresh ground black pepper to taste (start with about 1 tbsp), or 15 whole black peppercorns
1 bay leaf (optional)
½ cup cider vinegar (or a mix of cider vinegar and white vinegar, whatever's handy)
6 tbsp soy sauce (I use Kikkoman low-sodium soy sauce)*
2 tbsp sugar (white or brown), or a bit more to taste
Method:
Put all ingredients into a pot and simmer, gently bubbling but not boiling, for about an hour. Check occasionally to make sure that each piece of chicken has its turn in the sauce. When the meat is beginning to pull away from the bones, it is probably finished. My husband, who's deathly afraid of raw chicken (get it?), would want me to advise you to double-check the chicken near the bone and make sure that the meat is cooked.
*The entire dish can be made gluten-free with gluten-free tamari instead of soy sauce.