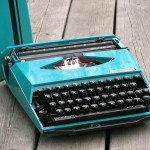 I could tell you that it smelled yellow. Not in a diseased, Charlotte-Perkins-Gilman way. Not in an inscrutable, exotic, "Oriental" way.  It smelled like Northern California summer sunlight coming through shoji screen paper.
I could tell you that it smelled, predictably, like aging paper. But that might only tell you so much. If you haunt used bookstores like I do, you'd probably recognize the smell. You'd also know it if you've done a lot of research in the archives, or shelving in the library stacks. This week we took a family walk down the spiral stacks at the Seattle Central Public Library, and as we rounded a corner, something like that smell greeted me.
The envelope smelled, as my husband Josh pointed out to me, like my childhood house. When I was growing up, we had touches of Japanese décor around the house: a few kokeshi dolls, a noren that fluttered in the main entrance to the hallway, even a tokonoma with a bright red painting. But for me it's the shoji screens over our windows and glass doors that quietly say home. That's the smell: the yellow, the paper, the light.
Since I love paper with a cocooning fervor that would make a silkworm blush (another post, another time), you'd think that the feel of the paper would be my first sensory hit. I've had this envelope for years now, and it's been at my mom's house for a couple of decades before that, probably unopened.
But at first, I was too tentative to rub the paper between my fingers. I even did some writing before I opened the envelope; I wrote down the questions that I wanted to ask. During internment, how did you and our family deal with loss? How did you deal with the loss of your possessions, of your house, of your family papers and baby pictures? And the difficult, near-impossible questions: How have I dealt, or not dealt, with your loss? How do we endure?
It took me a week to think about those questions. I haven't read the manuscript since I was eight or nine years buy ventolin without prescription old: almost twenty-five years ago. Then a week later, I wrote down why I was so afraid of opening the envelope. I'm scared that it's going to make me cry and realize his loss all over again. I hate crying. I hate having lost him.
On my computer desktop, I opened up and looked at an old photo of my father. I wanted to say something like a prayer, but I didn't know what to ask for. I don't really pray, if we're being very honest here.
I couldn't think, didn't say, probably felt: please.
Then I opened the envelope. Lately I've been worried that the manuscript inside the envelope has been deteriorating. But I noticed that though the first and last pages are a bit tattered, the bond paper's doing its very best to stand up to the manual typewriter. In an age of slick laser printouts, there's something engraved, almost letterpressed, about these typewritten pages.
And at the bottom of the very first page, he left me an unexpected gift.
Taku Frank Nimura
December, 1973
Out of the two-hundred plus manuscript pages, it's this one that I just might cherish the most. He wrote this book—or at least this page—during the month and year that I was born. He died eleven years later.
In the wake of a recent loss, private for now, I am beginning to write my own book. It's a book that speaks to my father, that will interweave his voice with the voice and artwork of my sister. I don't know where this project will take us, but I know it's about memory, family, technology, loss, and home. And it's about the precariously shifting aftermath of history, or what I've come to think of as the wake.
The wake? Stand near the back of a ferry boat, and watch the waters below. As the boat engine starts, the waters will seem to hum. All that unseen energy will churn itself into a thick, gorgeous procession of rippling upheaval. We know the procession will eventually disappear. And so we treasure the wake because we are always leaving it behind.